An area that employees usually don't clean up after themselves is the bathroom. It is the most important part of the building to be properly and regularly cleaned and disinfected appropriately. A clean and disinfected restroom helps prevent the spread of illness-causing germs, such as Salmonella, E. coli and norovirus which are routinely found in restrooms. If your employees get sick due to these germs it could impact the bottom line of the company.
Areas of the bathroom that are regularly touched such as the toilets & urinals handles and then other hard surfaces are touched need to be professionally disinfected and cleaned to reduce the risk of passing on germs. Bathroom cleaning also includes cleaning dispensers, walls, stainless steel, vents, stall walls and tops, floor boards and floors, drains, pictures, mirrors, showers, locker areas and other bathroom fixtures.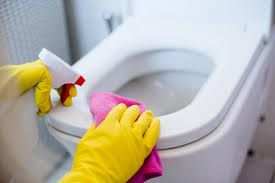 A detailed checklist for an accurately clean bathroom:
Daily
Inspect paper dispensers and dryers to ensure they're in working order
Restock and fill soap, toilet paper and towel dispensers
Sweep floors and mop, making sure to clean around and behind toilets and other hard-to-reach areas
Wipe down sinks and counters
Clean and sanitize toilets and urinals, including handles
Disinfect and empty feminine hygiene dispensers and restock with new liners
Disinfect door handles and stall locks, both inside and out
Clean and shine mirrors
Monitor trash receptacles and empty them before they're full
Weekly
Wipe down stall doors, cabinetry and any hardware inside and out
Dust all surfaces, light fixtures and light bulbs
Check faucets, pipes and toilets for leaks
Inspect drains to ensure they remain clog-free
Monthly
Wipe down walls to remove dust and particles that cling to surfaces
Deep clean floors and scrub any tile and grout
Clean baseboards, trim and tops of doors
Clean overhead fixtures such as ceiling fans, vents, lighting and sprinklers
To reduce the burden on your employees, save money on cleaning supplies and maintain your company's reputation, leave the professional cleaning to SERVPRO of Stark County. For a free, no-obligation consultation and assessment of your needs call us at 330-497-1773.