Health Checking
On-site Health Checking
We are excited to announce a new integration into our line of specialized commercial services. Partnering with Spartan® technologies, we now have the ability to conduct testing on-site to analyze commercial cleanliness almost instantaneously. We have the technologies necessary to conduct testing in ideal environments like healthcare establishments and educational buildings. These commercial buildings have a tendency to create a lot of traffic, subsequently causing a heavy exchange of bacteria throughout the establishment. Our Health Checking services will analyze the amount of bacteria within the establishment, helping to generate a solution to maintain the health of patients, students, and employees of the commercial business. Ultimately, these services can reduce unplanned spending and provide a documented analysis of cleaning practices. Below is a breakdown of how our services can assist with maintaining a clean and healthy environment:
UV Testing
Ultraviolet Testing is a proven useful tool within a commercial business to monitor and analyze the effectiveness of cleaning habits within the institution. The process begins with one of our supervisors swiping a non-detectable solution in random points throughout the facility. This solution can be detected under a specialized UV light (undetected by the human eye), exposing areas that have not been cleaned by staff. This process can be the solution to unorganized and ineffective cleaning processes. This type of testing is the start to organized cleaning habits and ultimately, documenting the most effective and healthy cleaning practices. Within the process, we utilize evidence-based accountability to show viable results to the establishment. Also, the process of Ultraviolet Testing can be an effective training tool in greatly lessening the risk of Health Care-Acquired Infections (HAI).
ATP Bioluminescence
The process of ATP Bioluminescence is an effective way to get instantaneous results in the analysis of microorganism contamination. The process utilized by our expert team can be briefly outlined as follows:
Turn On and Allow Meter to Calibrate
Swab Surface
Snap Swap & Place in ATP Meter
Read Meter
Review Data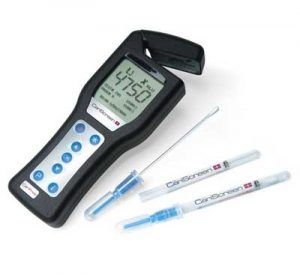 This type of technology can accurately pinpoint the amount of bacteria living on surfaces within the establishment. Utilizing the ATP technology allows for evidence-based documentation of a healthy or unhealthy environment, and what cleaning processes need to be tweaked for the most efficient results. ATP testing can help reduce HAI risk and ensure the cleanliness of surfaces children come into contact with routinely. Our team of professionals will deliver results to your team and evaluate the next step of action to have the most efficient cleaning process for your specific facility. To learn more about UV Testing and ATP Bioluminescence, give us a call at (330) 497-1773. One of our representatives will be happy to elaborate on this useful technology and how it will relate to your specific facility.